Old city, smart city, green city
The city of Tainan is embracing smart technology to create a better environment for its visitors and inhabitants
Tourists flock to the ancient city of Tainan to visit its huge array of temples and fortresses, sample its unique cuisine and wander the narrow, bohemian streets. As the island's former capital with a 300-year heritage, it is rich with culture and history.
But while it is an old city, Tainan is also densely populated with about 1.9 million inhabitants.
It therefore faces many challenges commonly seen in fast developing ancient cities – narrow roads, traffic congestion, ineffective water management, inadequate educational resources and an ageing population.
Becoming smart
To overcome these challenges, Tainan, like many other cities, is embracing digital technology that will help to improve public services, protect the environment and enhance the lives of the people that live there.
In 2015 the city began working with mobile operator FarEasTone (FET) to develop and deploy cloud, mobile app and IoT (Internet of Things) technologies that would link up Tainan's public services to increase efficiency. This collaboration between city and mobile carrier has enabled the local government to launch innovative services.
By working together and building a common vision, FET developed smart city services in six areas.
A smart city operations centre: this is a cloud-based central data depository where the city authorities can link information from different sources to provide more integrated services.
Water resource monitoring and disaster management.
An intelligent bus/bus stop operating system: exact locations for buses and estimated arrival times for each bus are available for mobile apps and bus stop displays. And beacon integration allows nearby attractions and location-based information to be pushed to users' mobile phones.
A mobile education platform for elementary and middle schools: the CloudPlay mobile learning (mLearning) programme is a platform for outdoor education for elementary and middle school students and teachers across the city. This innovative, cloud-based mobile application integrates outdoor education course content and field trip curricula with multimedia, social messaging and real-time positioning to engage students and promote creative thinking and problem solving.
Cloud-based health monitoring stations: Tainan has deployed these into more than 300 community health centres to monitor the city's ageing population. Citizens can also access their own data via a mobile app to monitor their health.
A mobile commerce platform for local shops and businesses: this is essentially an app that promotes local shops and businesses by providing accurate location-based services, automatic message pushes and discount coupons. Over 800 local stores signed up to the platform in 2016 and more than NT$10 million in revenue was achieved in the first year of operation.
Tainan faces many challenges commonly seen in fast developing ancient cities.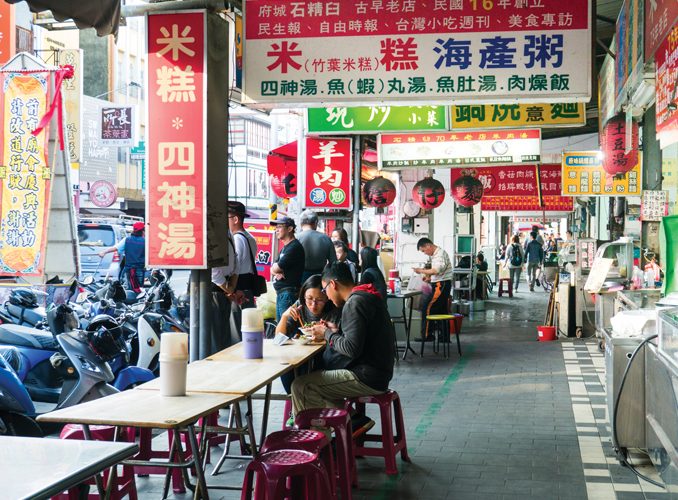 The benefits of smart city technology
Each type of smart city service needs to have clear benefits. Take water resource monitoring and disaster management as an example. Over the years, the island has earned international recognition for their expertise in the forecasting of, and response to, extreme weather.
An initiative by the authorities to improve their extreme weather response prompted the national Water Resource Agency to work with the city of Tainan and FET to develop capabilities to improve flood control and disaster recovery.
These capabilities include:
near real-time data collection, data analysis and dissemination of results
real-time water resource monitoring
emergency information broadcast in real time, with flood warnings issued via mobile applications
data backed up regularly to ensure availability at all times
data integration across agencies so that disaster response times are quicker.
Moving towards a green city
Green cities, or sustainable cities, gradually appeared in the 1980s and 1990s as part of a general growing awareness of environmental protection.
With smart city services as a backbone – that is, a mature mobile platform, cloud, IoT and telecommunications – Tainan is now looking to build on this and emerge as a green city.
Green cities draw on, among other things, renewable energy, which minimises ecological damage and increases the quality of air in the city.
However, renewable energy currently accounts for less than 5 per cent of the island's current power supply.
With a national target of 20 per cent of total power supply to come from renewable energy sources by 2025, simply using existing technologies is not going to be enough.
Research and development, manufacturing production and massive deployment of new renewable energy sources are all needed to reach this target.
A technology trial park
The authorities plan to make Tainan a permanent base for the technology industry and to develop the Shalun renewable energy park as a centre for research, development and investment.
The park is to be a test site for new renewable energy technology and will create a zero-waste economy, featuring electric buses that can be wirelessly charged, cars fitted with solar panels and eco-friendly buildings.
The development of Shalun will prove that urban development can coexist with nature, and the park will be a major contributor to the goal of renewable energy providing 20 per cent of total power supply.
800 local stores signed up to a mobile commerce platform in 2016⁺ achieving more than NT$10 million in revenue
⁺ Data taken from the Tainan/FarEasTone Smart City Project quarterly report to the Ministry of Economic Affairs.