Paving the way for (more) factoring in Kosovo
What are the challenges of factoring in Kosovo? And what drove the central bank to adopt regulatory reform? The EBRD's Milot Ahma finds out
Kosovo took an important step in the reform of its legal framework back in November 2018 when the Central Bank of Kosovo (CBK) adopted a new regulation on factoring, thereby vastly improving the legal and regulatory framework and aligning it with international best practices.
The EBRD's Legal Transition Team helped to draft the regulation.
Factoring is an attractive financial instrument that is being under-used by Kosovan businesses and so the CBK has been keen to promote it. Milot Ahma from the EBRD's Legal Transition Team spoke to Albulena Xhelili-Berisha, Director of the Department for Licensing and Standardisation at the CBK, to hear her thoughts on the reform and what drove the central bank to undertake it.
Recent reports suggest that access to finance and financial inclusion in Kosovo remain low even by regional standards. Could you summarise what the CBK plans to do to improve financial inclusion, and how factoring fits into such plans?
The CBK in its capacity as a catalyst, regulator and supervisor of a stable and efficient financial system has identified as a priority the need to deepen and widen financial intermediation and financial sector infrastructure, not only to spur growth but also to increase the level of financial access and inclusion.
Given that factoring has become well established in developing countries, is supported by central banks around the world, and is accepted as a vital financial need of small and medium-sized enterprises [SMEs], the CBK has taken concrete steps to support its development in Kosovo.
First, from a regulatory perspective, the CBK, with the EBRD's technical assistance, drafted the regulation to establish the legal and regulatory requirements for engaging in factoring activities. Up until this regulation, factoring was mentioned in the banking law but it was not specifically regulated.
Second, from a supervisory perspective, the CBK will ensure that banks and non-bank financial institutions (NBFIs) that are licensed/registered by the CBK to carry out factoring operate in an efficient and regulated manner in compliance with the legal and regulatory framework.
Third, the CBK, as a critical actor in financial literacy, has and will intensify its efforts to educate Kosovo's citizens on factoring through increased and targeted information campaigns as part of the five-year programme on financial literacy, as approved in 2017 by the Executive Board of the CBK.
We believe that factoring has a very high probability of success with proper market awareness and education in Kosovo. However, its development in most countries has taken time and has often been met with challenges.
We have only two institutions in the market licensed to engage in factoring: one bank and one NBFI. Unfortunately, the NBFI has not had the best performance and by the summer of 2019 had initiated voluntary liquidation. The phenomenal rise in factoring in Europe is, among other things, attributed to a transition in business from banks to mainly factoring subsidiaries of banks. Maybe this could be a route to consider for our banks as well.
Improved finance options have helped businesses such as Restaurant Oda, Peja, Kosovo.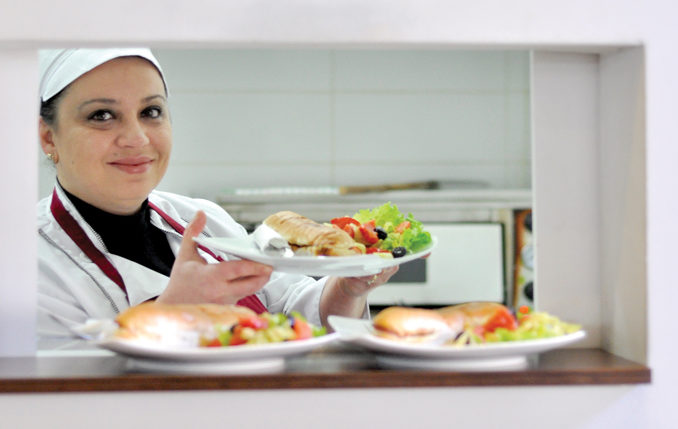 What are some obstacles that, in your view, prevent or could prevent the uptake of factoring in Kosovo?
The general problem is that the level of awareness, availability, acceptance and use of factoring is low despite its benefits. Proper awareness of the product and its benefits, especially on the part of SMEs (that is, the demand side) is a crucial element in the introduction or development of a new product such as factoring. Businesses are not sufficiently familiar with this type of financing, while the range of factoring products offered is very narrow and not necessarily suitable to businesses' needs.
What does the market need to overcome such obstacles?
The business culture will need to change. Bankers/factors will need to take a fresh look at offering other forms of factoring which are more attractive for businesses, including non-recourse factoring and international/export factoring.
Awareness and education of factoring are also essential to the proper development of factoring in Kosovo.
The results from outreach events, like the one we organised together with the EBRD in September 2018, might contribute to positive social change by bridging the information, knowledge and research gaps on factoring services in Kosovo.
On the supply side, investors may set up factoring businesses, boosting product availability. On the demand side, SMEs may gain awareness of factoring, leading to increased product acceptance and utilisation. Improved financing options for Kosovan businesses may yield better enterprise performance and competitiveness, which in turn may result in improved job opportunities, household income, quality of life and, broadly, Kosovo's economic growth.
Finally, do you see factoring benefiting from the rise of Fintechs and distributed ledger technologies?
Fintechs and distributed ledger technologies have the opportunity to help speed up the flow of capital and enhance the speed and efficiency in trade finance to seamlessly fund SMEs via electronic means. These could be a challenge as well as an opportunity for the local factoring industry, which is still at a very nascent stage.
The CBK is closely following the developments in other jurisdictions and studying the impact that these new business models and technologies can have, especially from a consumer protection and financial stability perspective.
Factoring is accepted as a vital financial need of small and medium-sized enterprises.